Ipswich East 50th Charter Afternoon Tea
On Sunday 13th November four of our members went to Tuddenham Village Hall to help Ipswich East Inner Wheel Club celebrate their 50th Charter. We were given a warm welcome and were shown to a table. Each table was presented with a tier of goodies - variety of sandwiches, pork pies, sausage rolls, cheese scones and many pieces of cake. Before the food, candles were lit for friendship and peace by a founder member and two longest serving members. After the food Catherine Forsdyke, the President, gave us a short history of the club. (Her mother had been a founder member.) It was interesting to see how much has changed over the years - no gloves and hats need to be worn and members are addressed by their Christian names!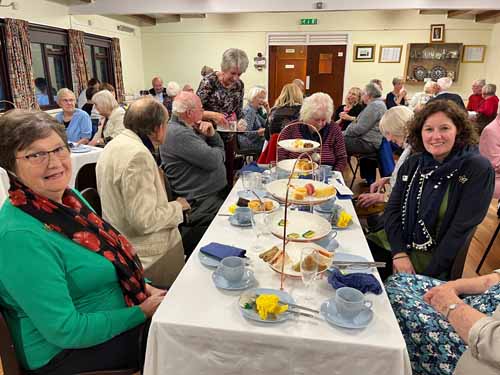 Congratulations!
We send our congratulations to two members of our club and their husbands. Both Sandra & Christopher Heptinstall and Margaret and Max Pemberton, celebrated their Diamond wedding anniversary on the same day - 22nd September. What an achievement. We wish them well for the next decade!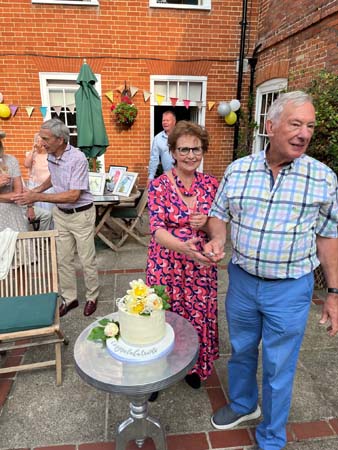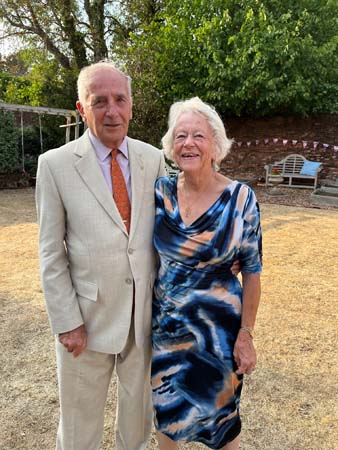 Wednesday 15th June
Many of our members enjoyed a Tapas evening in our President Sally's garden. It was a beautifully warm evening. We were all able to enjoy friendship and good food. Sally presented a cheque for her charity "Headway" during the evening.
Platinum Jubilee
As part of the Jubilee Celebrations our club had a stall on Kingston Playing fields on Friday 4th June. It was manned from 10:00 - 16:00. It was very successful. We had a cut-out elephant and children were invited to try and hoop quoits around its tail or trunk. All were given a sweet for their efforts. For this there was no charge, but adults could try and guess the amount of sweets in a jar for 50p. It was an ideal opportunity to advertise our club.We are hopeful that as a result we may have a new member or two.
Coffee Morning Hosted by Deirdre Griffin for Stroke Association - £145 raised. Sally thanked Deirdre for her hospitality and a wonderful sum raised for the Stroke Association. Deirdre has now completed 350 miles and those wishing to join her for a celebratory finish on 19th April should contact her.
Charity Walk Update
In my first report, I said I would update you on progress at the end of February. Sorry, I missed the deadline. I was probably out walking!
The good news is that on March 29 I completed the walk! All 350 miles of it. I never went out in the rain, although I did get rained on a few times. But hey, I'm a Scot and shouldn't complain!
I truly enjoyed doing it all, and am looking for the next challenge. I don't intend to stop walking.
To celebrate, I am having a short walk on 19 April, with a lunch at a local pub. I hope you will join me – even if it is only for the lunch.
I will need to find out President Elect Karen's charity and do one for her. Perhaps it might be to complete the trip to Land's End. That's just another 463 miles.
On behalf of the Stroke Association, thank you for supporting me.
Charity Walk
The Stroke Association is our national President's charity for the year. At our District Rally in October, Association President Betty told us that if every member were to walk just 2.5 miles, as an organization we would walk the distance from Land's End to John o' Groats. A sponsored walk would give the Stroke Association some much needed support.
At the District Committee Meeting in November, I announced that I was going to walk the Scottish section of this, from Gretna Green to John o' Groats, some 350 miles. Those attending the District meeting agreed to sponsor me. As did the club.
I use a FitBit to measure the distance each time I go out. I have certainly discovered local paths and walks which I didn't know before I started on this. If Covid has done one thing positive for me, it has got me out walking almost every day. And I enjoy it.
Here is my progress report:
I started out on 26 November.
31 December 2021, I had walked 129 miles
22 January 2022, I had walked 185 miles
Next update, 28 February. Deirdre Griffin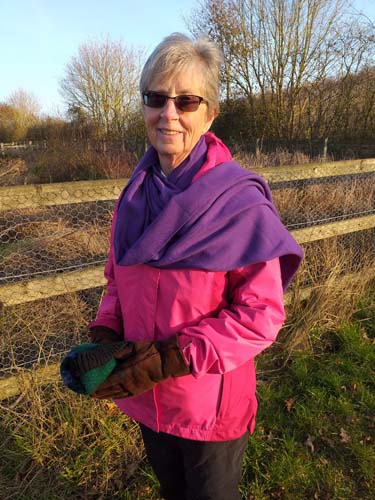 District Rally 20th October 2021
Four of our members attended the District rally held at Briarfields Hotel, Titchwell. It was an opportunity to meet fellow Inner Wheelers. It was good to be able to meet face to face once again and enjoy the beautiful Norfolk coast. We were joined by Association President Betty and some of her District 24 members. The next day we were invited to do a 3 mile coastal walk in aid of the Sytroke Association, Betty's charity for the year.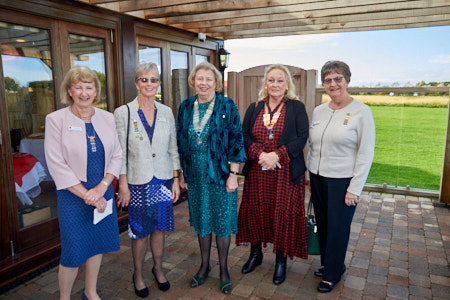 Presidential Handover
With the pandemic still a concern for our members, the hand over was held in out going President Jan's garden. Everyone wrapped up warmly! It was followed by a tasty strawberry tea.