Presidential Handover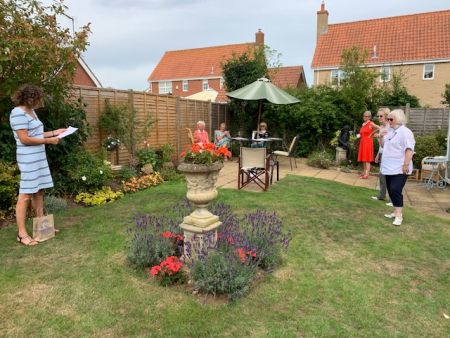 With no official meetings planned due to Covid 19, our outgoing President Chris, invited commitee members to her garden. It was a lovely afternoon, with Chris providing a super buffet, together with wine or soft drinks. The sun shone and we were easily able to social distance from everyone and have a catch up chat. Unfortunately the incoming President was unable to attend due to self isolating, but her daughter Sharon did the honours, thanking Chris for all her hard work and presented her with a thank you gift.
Inner Wheel Rally Thursday 31st October
As this year's District Chairman is our very own Deirdre Griffin, we were the hosts for the rally. It was held at Fynn Valley Golf Club. It was a lovely sunny day so photos could be taken outside. Judy Hardcastle made an excellent MC making sure that the proceedings ran smoothly. When all members were seated we welcomed Deirdre together with Association President Enid Law and Member of Council Maria Rayner. Before the meal the four candles were lit - past, present, future and for clubs the world over. Catherine Forsdyke then said grace. A loyal toast and club roll call followed the meal. We then had a series of greetings from Rotary's District Governor, Presidents of the two Rotary clubs of Woodbridge, and District 24's Chairman.
Our own President, Chris Mason, welcomed everyone to Woodbridge. She then gave an excellent description of all the attractions of living in our town. Enid law gave an inspiring address after lunch. Deirdre closed proceedings, thanking everyone who had been involved in the planning and preparation of the event. The whole event was enjoyed by all. It was a true example of Inner Wheel Fellowship.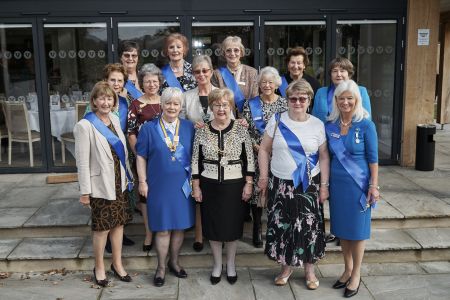 Belinda Gray's Garden visit Tuesday 25th June
13 members enjoyed a pleasant afternoon being escorted round Belinda Gray's garden in Bredfield followed by a delicious afternoon tea. £170 was raised for Art for Cure.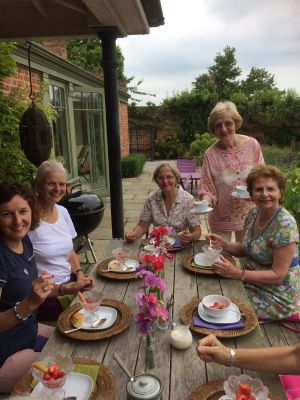 Tuesday 18th June
At Brome Grange Hotel we had the AGM and the Handover of the executive committee. It was a very enjoyable evening which included a delicious meal. We now have a new District Chairman and she is one of our members! We are delighted that the new District Chairman is Deirdre Griffin who has taken over from Linda Fellas. We wish her well and look forward to an exciting year under her leadership.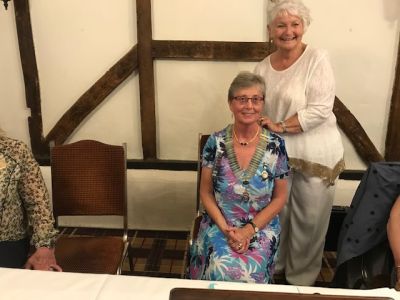 Wednesday 29 May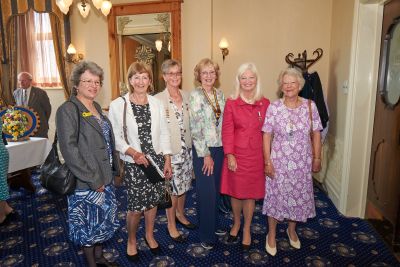 Six of our members met at the Imperial Hotel Great Yarmouth for the District Rally. We all had coffee on arrival and an opportunity to speak with other club members. After various photo calls we sat down to a two course lunch. Our own member Deirdre Griffin helped to light the friendship candles at the start of the proceedings. It was good to see Catherine Forsdike with us once again following her stroke. She was able to read the Objects of Inner Wheel. Carol Horne President of the Host Club of Great Yarmouth welcomed us all. The assistant Governor, Ian Elliot brought greetings from Rotary District 1080. (He was accompanied by his fiancee , whom he was marrying three days later!) Our Association President Ann Acaster gave an inspirational address. After Linda Fellas' closing remarks we all started our rather lengthy drive home. (Earlier accident caused severe hold ups through Great Yarmouth), but we were pleased to have attended a worthwhile event which showed true Inner Wheel Fellowship.
Friday 10th May
Eight of our members became "Ladies who lunch" when we had a visit to Shelley's restaurant in Suffolk New College. This is where the catering students of the college are able to prepare and serve food to the public. It gives them the opportunity to learn how to present food and waitressing skills. We enjoyed an extensive buffet, serving a variety of meat, fish and vegetarian dishes. This was followed by a choice of four desserts. Some of us took advantage of the bar facilities and were able to sip a glass of wine with the meal. All in all a very pleasant experience at a very reasonable price. We then all caught the Park & Ride bus home!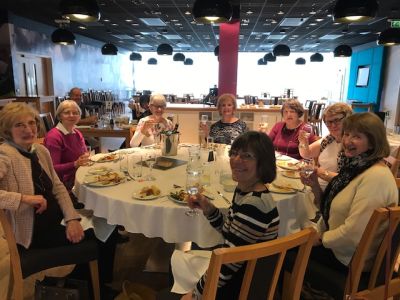 8 - 10th April Inner Wheel Conference, Cardiff
Cardiff was bright, sunny and cool – but a warm welcome awaited the 1760 or so IW members on Monday, 8 April. The Service of Friendship on Tuesday morning lifted everyone's spirits, being led by Rev. Kate Bottley (journalist, media presenter and reality TV star) and the District 4 choir. Later in the morning Kate had us rocking with laughter as she spoke of her life in the limelight.
Alas, Esther Rantzen who was to address us about Silver Line, a confidential telephone helpline offering information, friendship and advice to older people in the United Kingdom, had taken ill in Cardiff and was not able to be with us. However, one of the Trustees of her charity stood in for her.
Our third guest speaker was young Ed Pratt. An amazing young man who at 19 set off from Somerset in March 2015 and rode round the world on a unicycle, returning in July 2018. To read all about his adventures, Google Ed Pratt Unicycle. It was not all straightforward, as you will see from the stories. However, on the US leg of his trip, he was invited to a ranch in Texas by someone who had been following his progress. At the end of the visit he received a cheque for $370,000 towards the charity he was supporting – School in a Bag! Ed is a very personable young man, who is already looking for the next adventure.
Wednesday morning is always our AGM, which will be reported on at our meeting. However, there were a few tears being shed when Rukhiya Budden talked about her early life in a cruel orphanage in Kenya, and how she is what she is today thanks to her foster family. She is now an ambassador for Hope and Homes for Children. She received the money from the Service collection on behalf of the charity. What an amazing young woman she is.
Music was a theme throughout the conference: supporting Jessie's Fund; the youth choir on Tuesday afternoon; Rainer Hersch (conductor and comedian) and friends on Wednesday afternoon; not to mention the Blues Brothers on Wednesday evening.
Next year's conference is in Belfast, 28-29 April. Will I see some of you there?
Deirdre Griffin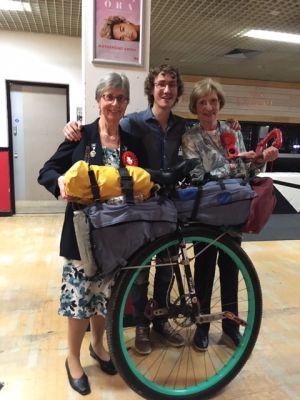 Quiz Night
A very successful evening was had by all on Friday 8th March when we held our annual quiz night. It was held in Woodbridge Community Hall. Twenty two teams of 4 - 6 people tested their general knowledge in ten rounds, on a wide variety of questions. In the end it was a very close call but the winning team was the Debenaires. They can be seen receiving their prize shown in the pictures below. The quiz was in aid of our President's charities: SARS and EACH. Both charities entered teams. With expenses paid the total raised was £993.80, which is an excellent result. Many thanks to Deirdre Griffin for the questions and to her husband Tom for being a very able quizmaster.
Soup & Pud Lunch
Seventeen members marked World Inner Wheel Day by enjoying a soup and pud lunch at the home of Deirdre Rothwell. There was a choice of three soups, followed by a delicious apple crumble & custard. It was a lovely fellowship opportunity which raised £100+ for Shelter Box. This is a charity which provides shelter in disaster areas by providing a substantial tent and all the equipment needed to house a family.
Breast Pillows
Jan Whitaker and her daughter Sharon took 42 pillows to the Breast Care Unit on 26th July. THese had been made by some of our members. They will much appreciated by the patients. The picture below shows the surgeon together with two nurses, receiving the pillows.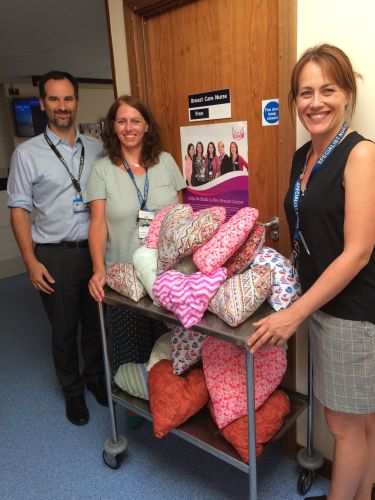 Visit to Harwich Yacht Club
We were able to present the Woolverston Project with a generous cheque after our quiz evening for which they were very grateful. To thank us they invited our members to visit their base and see what they do for disabled people who wish to sail. Six of our members went on the afternoon of Tuesday 10th July. We had a very enjoyable time. We were taken out on a flat bottom boat which is used for carrying people in wheelchairs. The weather was ideal for a sail up and down the Orwell. Afterwards we were given tea and cakes.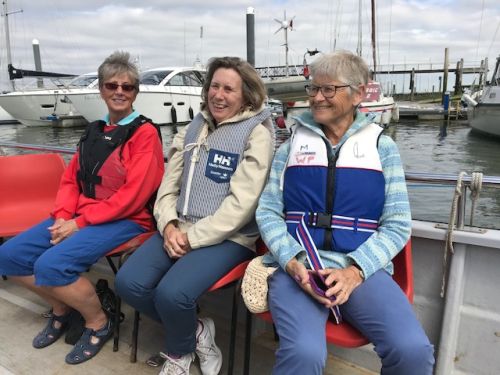 District Committee meeting & AGM 19th June
Four of our members attended this meeting. It was held at Brome Grange Hotel. It began with a general committee meeting followed by a two course dinner. The AGM followed dinner. All members of the committee gave reports. Retiring officers were then given their bars. Our own member Judy Hardcastle was retiring after twelve years of service on the committee. The new President Linda Fellas was then inducted and presented with the President's Jewel. The two Deirdres from our club now have new positions on the committee. Deirdre Griffin is now vice chairman and Deirdre Rothwell becomes the editor. Linda Fellas then closed the meeting and committee members were presentd with flowers by their clubs (below picture of Linda Fellas).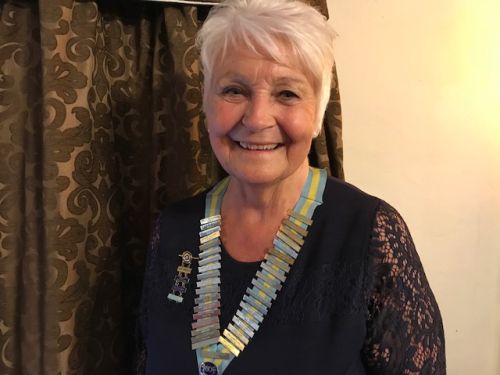 e