Thursday 3rd November
Mud and Bugs! Not all on the same day! Very muddy and wet bikers were delighted that IW members were ready with hot drinks and sustenance at the Ruff Stuff Forest Cycle Event in Rendlesham Forest on Sunday 30 October when it was pouring with rain. Around 160 cyclists took part in the event, organised by Woodbridge Rotary Club, and which raised money for Bike Active and other local charities. Bike Active provides cycling every Wednesday, come rain or shine, for adults with a wide range of disabilities, and seeing the disabled cyclists enjoying the freedom of their day out is a joy to watch.
So, that was the mud – now for the bugs! Well, beetles – a beetle drive. As the November speaker was unable to attend, President Sharon arranged a beetle drive instead. Silly game – but lots of fun and laughter, except when everyone else on the table has thrown a six to start and you haven't! Sandra Heptinstall won, with June Kenyon and Mary Walker runners-up.
Alongside the fun, the serious stuff! Money is fast being raised in various ways to support the Book Bus in Zambia for children who would otherwise never read a book. A soup and pud lunch, planned for International IW Day on 10 January, will raise funds for an international charity. And, members were delighted to have heard news of our new friends in Denmark, the Fredericia IW Club.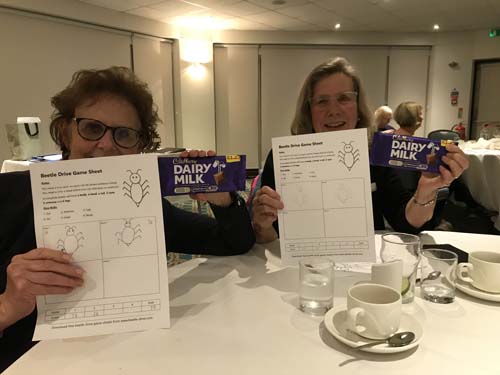 Thursday 5th October
"A sniff can save a life!" With all the technology available to humanity today, it is easy to overlook some of the more natural solutions that nature has to offer. Norma Newall of Medical Detection Dogs gave a fascinating insight into the marvellous sensitivity of trained dogs that are able to detect a wide range of illnesses, and others that are able to alert their owners to medical emergencies - literally "dogs saving lives". Norma explained the difference between bio detection dogs that are trained to detect even the tiniest smells associated with diseases like cancer, Parkinson's, COVID-19 and bacterial infections, whilst medical alert assistance dogs support people with complex health conditions, and when they are in danger of having a potentially life-threatening medical event the dog will alert them to the necessity to take action and potentially prevent hospital admission. It is thought that the dogs save the NHS hundreds of thousands of pounds a year. Members were fascinated by a video clip of a woman being wakened in the night from a sound sleep by her assistance dog to alert her to such a medical emergency. In thanking Norma, Pat Clark said that the talk had taken our knowledge of medical aid dogs to a different level. To find out more about Medical Assistance Dogs you can visit their website at www.medicalaiddetectiondogs.org.uk
Thursday 1st September
Young people face a variety of issues growing up in today's society. Many of their problems will be alien to the older generation who do not participate in the many social platforms available today to young people. Children and young people may also experience problems at home, or at school. Our September Speaker, Gavin Stone, Chief Executive Officer of 4YP based in Ipswich, told us that the charity believes that all children, young people and young adults aged 7-25 should have somewhere safe to go, something positive to do, and have someone trusted to connect and journey with. 4YP responds with agility to support them to confidently transition through each stage of their life journey, to thrive and fulfil their potential. Through advice, guidance and practical support the charity helps young people develop the skills and knowledge to lead healthier, happier, safer and more resilient lifestyles. It gives young people the confidence to make better informed choices and enable them to reach their full potential. Gavin gave specific instances of help given to young adults suffering with anxiety and/or low self-esteem, and other instances of some who had benefitted from being able to attend a youth club instead of being on the streets. In thanking Gavin for his interesting talk, President Sharon said that working in education she could relate to some of the problems outlined, and was pleased that Woodbridge Inner Wheel had supported her choice of 4YP as its charity for the 2022/23 year.
Members overwhelmingly embraced the opportunity to correspond with a Danish Inner Wheel Club with the aim of forging friendship and exchanging ideas.
International Officer, Daphne Rayment, advised she would continue to collect many items such as stamps, old mobile phones, jigsaws, etc and was pleased the knit and natter group would meet again to produce knitted blankets, and hats and neck warmers for the seaman's mission. Members are also pleased to provide help to the Book Bus in Zambia, a charity that provides access to children who otherwise would never enjoy a story book.
It was with pleasure that members welcomed back former member Sarah Owen-Williams and new member, Louise Cheeseman, to the Club.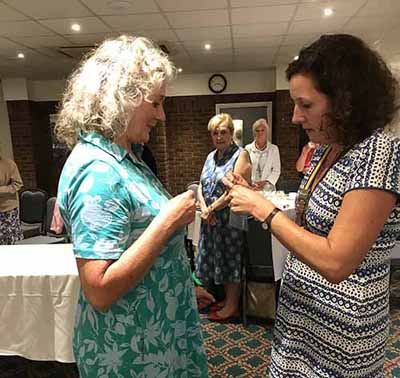 Thursday 30th June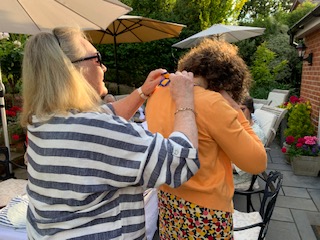 Members were welcomed once again into our outgoing President's garden, for the handover. The President's chain of office was handed to our new President, Sharon Proctor. Sharon then thanked Sally for her enjoyable year as President and presented her with three Lavendar pots. The new committee was introduced and badges for past and new members were given out. Sharon then talked about the activities for her year ahead. We have many interesting events ot look forward to during the year. Once the formalities were over we were all able to enjoy delicious strawberreis and cream with home made shortbread, accompanied with a glass or two of Prosecco!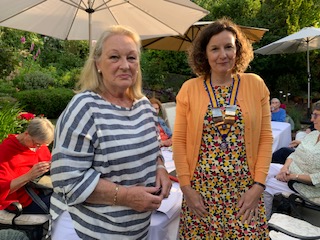 .