Thursday 30th June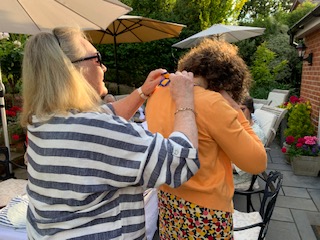 Members were welcomed once again into our outgoing President's garden, for the handover. The President's chain of office was handed to our new President, Sharon Proctor. Sharon then thanked Sally for her enjoyable year as President and presented her with three Lavendar pots. The new committee was introduced and badges for past and new members were given out. Sharon then talked about the activities for her year ahead. We have many interesting events ot look forward to during the year. Once the formalities were over we were all able to enjoy delicious strawberreis and cream with home made shortbread, accompanied with a glass or two of Prosecco!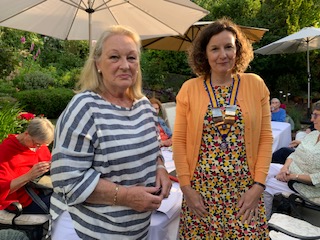 5th May

If asked, how would you summarise your life's story to be conveyed to others succinctly, so as not to bore them silly? IW Members were captivated by their District Chairman, Coral Campbell, who certainly did not bore them as she told her life's story utilising the Alphabet as headings. In her "alphabet of life", Coral adeptly told members about her arrival and birth (A and B), continuing up until the present day. Coral has had a varied life from its beginning in Northern Ireland to the present day in Norfolk. She told us of many happy times and of some times of great sadness. She enjoyed her life in teaching, and also as the wife of a Royal Navy Chaplin. When her husband retired from the Navy he fulfilled the role of Rector in various places, ending in rural Norfolk. Members were able to relate to the many cakes baked and cups of tea made over the years. In Coral's case they were aids to comforting young, home-sick naval ratings, and, latterly, for church coffee mornings/afternoon teas, and fundraising events, etc. In reaching the end of her talk, pre-Covid, "Z" might have been a challenge for Coral, but, of course, nowadays we are all familiar with Zoom, the technology that has enabled Inner Wheel Clubs and other organisations throughout the world to keep things moving during the pandemic, and aiding Coral to conclude her talk successfully using every letter of the alphabet! Coral is reaching the end of her year as Inner Wheel District 8 Chairman, with only a few clubs remaining to receive her visit. Her chosen charity for the year has been the British Heart Foundation and Woodbridge members and other IW members throughout District 8 have been donating items to BHF that also attract Gift Aid. Money is being collected in small jars, as small amounts contribute overall to a large donation. President Sally Pearson thanked Coral and presented her with a Woodbridge bag containing local honey and other items to mark her visit to the Club.

President Sally outlined the various events that will take place to raise funds including those for Headway, her chosen charity for the year. Woodbridge Inner Wheel members will be on Kingston Field on Friday 3 June alongside the two Rotary Clubs in Woodbridge.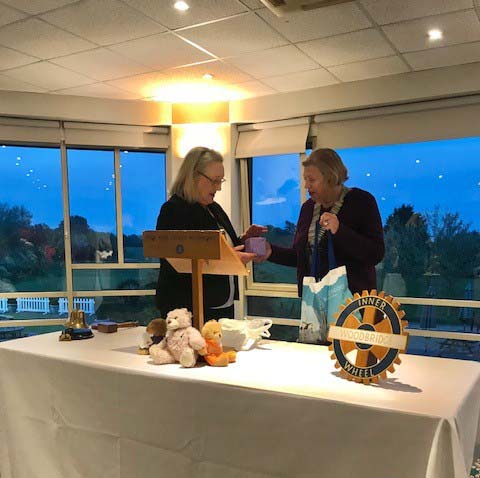 7th April
"If you want to get ahead, get a hat" was an advertising slogan used in the 1940s, when most men still wore hats. Would such a jingle be allowed nowadays – probably not! Back then, however, it was normal also for ladies to wear hats (certainly members attending IW meetings would have worn one). Nowadays it is less commonplace, perhaps because women don't feel comfortable in a hat or, except for special occasions, it is no longer expected. At a fun-filled April IW meeting, Anne Reeder, an award-winning milliner, reassured members that there is a hat for everyone, and a hat for every occasion, and that it was just necessary to know how to choose the correct hat for one's face shape and bodily frame.
Members were intrigued when Anne provided mirrors, soap, tissues and tape measures, and there was much hilarity when these were used to demonstrate how to assess the face shape of each member. Yes, intriguing! The tape measures were used to assess the sizes of members' heads (some had more of a big head than others!). Anne detailed the things one should take into consideration when choosing a hat, including that the person is comfortable wearing a hat, one's personality and frame, hairstyle, and many more. Amongst the many things Anne suggested when considering buying a hat was asking a friend to accompany you to help choose, standing in front of a mirror, taking photographs of the different hats, having the outfit to be matched or a piece of the fabric, but then taking time out to think about it - members approved of the suggestion of going for a coffee, or even a glass of wine before deciding.
Anne demonstrated how hats were made, telling how fabrics were steamed and stretched to fit the blocks, how the brims were similarly prepared before being attached to the base. Anne's hats are all hand-stitched. Hats can be made out of anything - Anne showed a hat made from recycled milk bottle tops! The next part of the evening was probably the most enjoyable part when Anne invited members to try on the many hats, fascinators, and hair pieces she had on display. What woman doesn't enjoy wearing a hat! Photographs were duly taken.
This very talented lady was thanked by Pat Clark, who finished by asking Anne where she had been when her daughter got married! To find out more about Milliner, Anne Reeder, her website is hats@annereedermillinery.co.uk
Before closing the meeting, President Sally Pearson outlined the various fundraising and social events and functions that are to take place between April and June 2022.
March 3rd 2022

"There, but for the Grace of God" …is something one tends to say when considering someone in a less fortunate situation to oneself. How easy it is to overlook the pain and suffering that can be caused by one wrong decision, one tragic event that causes a person's life to spin out of control. Gill Dean, Director of the Hope Centre based in Witnesham, gave a moving account to IW members of the love and care provided by Talitha Koum, a local Christian charity, to women who have become vulnerable as a result of tragic life events. Women with a range of personal troubles are provided in the centre with a bedroom and en suite, but they also receive care and rest, kindness, and practical help, for example, with counselling in debt, abuse, and dependency. Women are also encouraged into education or training opportunities. There is a lawn, an orchard and a vegetable garden, that provide an open space that allows people to come together and to produce food which they cook for personal and communal meals. The centre is supported by prayer, and receives funding from various sources including grants and donations from the local community and church groups. There were 7 bedrooms, and now there are 11 rooms with plans in place for further expansion, and also for diversification into social enterprise. June Kenyon summed up how members were feeling in her vote of thanks when she expressed admiration for the dedication and care of the charity. Each woman housed by the centre receives unique care and is rarely "moved on" until she is ready to leave. Talitha Koum means "Little Girl, Get up". Certainly, the love given by the Hope Centre should enable each person in its care to take up again their life in a meaningful and fulfilling way. For more information visit www.talithakoum.org.uk.
Mary Walker invited members to spend a few moments in silence to think of the people of Ukraine. Donations of toiletries, baby and personal care, blankets, sleeping bags, clothing etc were brought to be taken to collection points for onward transmission. Club Treasurer Deirdre Griffin has been walking regularly almost every day to reach 250 miles for the Stroke Association, and members, whilst sponsoring Deirdre, are also looking forward to joining her for the last few miles, ending up for lunch in a local hostelry – there may be more for lunch than for walking, but it is all about the fun and friendship!

February 3rd 2022

With a greatly reduced number of members able to attend the February meeting, the decision was taken to ask the speaker to postpone her talk until a later date. Members were sorry to hear of the list of illnesses and injuries sustained by members that prevented their attendance. After a tasty meal expertly served by the friendly staff at Ufford Park Hotel, the meeting turned to plans for the future. Many fundraising events have had to be cancelled because of the pandemic, so it was good to make tentative plans for a Fashion Show to be held in April. More information will be available next month once the finer details of the event are finalised. Plans are also underway for the club to join in with the Woodbridge celebrations for Her Majesty the Queen's Platinum Jubilee.
Members were pleased to hear that there had been some new attendees at the January Memory Café. The next Memory Café will take place on the morning of 23 February 2022 at Woodbridge FC when a karaoke session is planned. An exciting way to spend a morning! On the club's social side, members are looking forward to a guided walk by President Sally and her husband alongside Martlesham Creek, with a visit to St Mary the Virgin Church, Martlesham and finishing with lunch in Woodbridge.
Hats and blankets for premature babies knitted by members had been gratefully received by The Ipswich Hospital, and a number of knitted blankets will be taken to the next IW District meeting for distribution at home and abroad. £190 was raised for Mary's meals, and that sum will receive matched funding and will be used to provide school essentials for Afghan refugee children arriving in this country. When put together with money raised by Inner Wheel throughout the UK, the cause should be well supported.

Nationally in the UK, in 2021/22, some of the other charities being supported by Inner Wheel include The Stroke Association, Riding for the Disabled and Jessie's Fund. Locally, President Sally Pearson's chosen charity is Headway. However, because of the pandemic, like many other clubs, our fundraising and community service activities have been hampered and the club is having to consider the future. It is hoped that pandemic restrictions will ease before too long and the club may go forward with confidence.

6th January 2022


Testing, testing – yes, we live in "testing" times. President Sally Pearson asked members to do a lateral flow test before attending our January meeting and to wear warm clothes as all the windows in the meeting room at Ufford Park Hotel would be open. She didn't know that it would be one of the coldest days so far this winter, but all willingly complied. Testing times, yes, as decisions were taken by the club committee to postpone a lunch planned for 10 January to mark International Inner Wheel Day, and our annual quiz so ably devised by club member Deirdre, and presented by her husband Tom Griffin has been postponed from February to a date yet to be decided. Both of these events would have raised much needed funds for charities, but, for now and with fingers crossed, planning for a Fashion Show in April will continue. The Memory Café, run in conjunction with the Woodbridge and Woodbridge Deben Rotary Clubs and held on the last Wednesday of each month at Woodbridge FC, with appropriate health and safety measures in place, will continue to be held for the time being.
Members marked the passing of a long-standing member, Joan Hutchinson, who died before Christmas. It was also with great sadness that members heard of the resignation of a member.
These are testing times, too, for the Suffolk Punch horse, the pride of the County. Our January Speaker, Bruce Smith, a past President of The Suffolk Horse Society, told us of his life working with the Suffolk Punch. He arrived at the Hollesley Stud in 1978 with a knowledge of horses but little idea of breeding, but with the help of a local Vet, Ryder Davis, he soon became an expert. Bruce entertained members with amusing anecdotes of introducing the mares to the stallion, and the subsequent birthing and feeding processes. A founder member of The Suffolk Punch Trust, Bruce advised that the Suffolk Punch must be the colour Chesnut (not misspelt) although there are seven shades of chesnut from light to dark mahogany. Unfortunately, there is a limited market now for the horse and consequently the Suffolk Punch is high on the endangered breed list.
In the UK members of Inner Wheel support refuge centres for abused women, child centres and drop-in centres, school breakfast clubs and much more. Inner Wheel in Great Britain and Ireland raised over £2.8 million for various charities in the two years prior to Covid. All this was carried out in the spirit of friendship and service. However, in these testing times it is proving much more difficult to provide service to our local community and, together in friendship, raise much needed funds for local charities, but we are resolved to do what we can.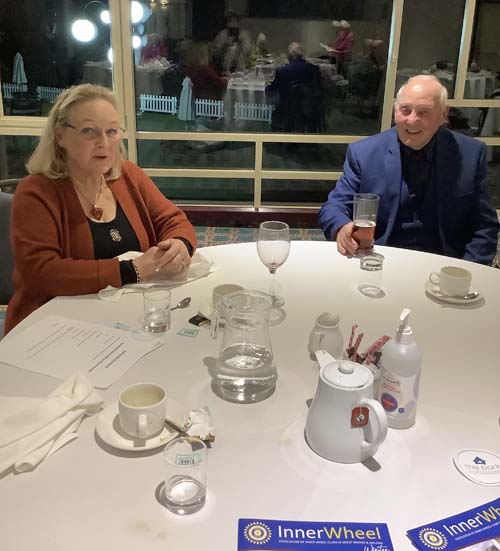 4th November
President Sally welcomed the speakers, Gemma Bloomfield (Director of Care) and Amanda Wilson (Customer and Domestic Services Manager) from Seckford Care (Seckford Almshouses).
They gave an informative and interesting presentation about the history and work of Seckford care. In 1587 Queen Elizabeth I granted Thomas Seckford permission to build almshouses in Woodbridge to "relieve need and distress" amongst older people. The first Seckford Almshouse consisted of rooms of 'brick and stone' to house thirteen local men.
Things progressed and developed over the years then in 2019 the title Seckford Care was introduced to encompass the full range of services provided, including the Seckford Club. Development of the site and services continue and ongoing plans for the future of Seckford Care are many and varied.
Sharon Proctor gave the vote of thanks. Judy Hardcastle said Grace.
7th October
President Sally welcomed the speaker Emma from The Finishing Touch, together with Mollie and Jenny who were going to demonstrate a facial.
The Finishing Touch is a beauty salon in Gobbitts Yard, Woodbridge. Emma gave informative guidance through the process of a facial demonstrated by Molly on Jenny. The products she used were circulated to members to see for themselves the benefits they could bring to their cleansing and toning regime. An interesting and helpful demonstration.
Deirdre Rothwell gave the vote of thanks.
2nd September 2021
WOODBRIDGE INNER WHEEL MEETS…IRL!
Our September speaker congratulated members on meeting "IRL"! Not being "down there" with the young people, none of us knew what that meant! Terry Hunt (a retired Editor of the East Anglian Daily Times) reliably informed us that it means "in real life". So yes, our 2021/22 President, Sally Pearson, and club members were relieved and pleased to be back meeting "IRL".
Tragedy can strike a family at any time and sometimes finding appropriate support and advice can be difficult. Therefore, it was pleasing to hear Terry Hunt speak to us in his role as Vice-Chair and Ambassador for Headway, the charity that supports people with acquired brain injuries, and also helps their families and friends. The tragedy of a brain injury can be acquired in many ways, eg Stroke, Brain Tumour, Dementia, Multiple Sclerosis and more, and Terry spoke movingly of his personal experience of the compassion and support provided by the charity when two separate heartbreaking events affected his family. He told us of the Chief Executive Officer, Helen Fairweather, who is the mainstay of Headway Suffolk and of her tremendous work ethos and compassion that radiate throughout the charity creating a supportive and caring culture. Headway adapted well to the changed circumstances brought about by Covid in order to provide support to their clients. However, as is the case for most charities, financing their activities can be difficult. Whilst during the pandemic some grants were received from various sources, more recently, once again, the need for funding has become a priority. Lottery funding for therapists ceased in 2020 and this service now has to be provided from core funding. Together with daily homecare (the demand for which has increased), financial advice and other practical support services, the charity offers an impressive range of activities for clients, including Cooking, Arts & Crafts, Woodwork, Basic Skills, Gym, Dancing, Cognitive Games, Ten-pin Bowling, Swimming, Music and more. Headway is based in Epsilon House which is not an ideal location. However, there are plans to have a purpose-built centre that will be more appropriate to the needs of their clients, but funding and planning permissions are proving troublesome and achieving the new centre may take some time. Terry asked members to tell people they knew who may have an acquired brain injury and are not aware of the charity, to get in touch with them. The website address is www.headwaysuffolk.org.uk. President Sally Pearson, who also has personal experience of the charity, and Woodbridge IW members are pleased to support Headway as the Club's main charity for 2021/22.
In order to support Headway and other charities, the club is hoping to be able to hold various fundraising events throughout the 2021/22. Plans are in place for our annual, popular quiz at Woodbridge Community Hall on February 25th 2022, and it is hoped to hold a Spring Fashion Show. Both of these events will be advertised in due course, subject to the Covid restrictions pertaining at the time. Members also agreed to support the Stroke Association (our East Anglian District Chairman's Charity) and The British Heart Foundation (the National Association President's Charity) as well as the overseas charity, School in a Bag, that provides children with the essentials required to be able to attend school. We continue to collect mobile phones, magazines, puzzles, glasses, trimmed stamps, and knitted teddies, and also to knit blanket squares and hats for the Seaman's Mission. It was reported that it was hoped that the monthly Memory Café run in conjunction with the two Rotary Clubs in Woodbridge and held at Woodbridge FC might be held later in September, and those people who normally attend would be contacted with up-to-date information.
It was thanks to technology and our Immediate Past President, Jan Whitaker, who had wrestled with, and grasped, the intricacies of "Zoom" that the Club had survived lockdown, but, albeit being sensible and following Covid protocols, being back in our usual venue, Ufford Park Hotel, felt "normal".
1st July 2021
Strawberries and cream and rain…no, not Wimbledon, a Grundisburgh garden! Retiring President Jan Whitaker had invited members into her beautifully manicured garden for the handover to the incoming President, Sally Pearson. One might expect that in mid-summer good weather might prevail. At 1.30 pm the rain came pouring down, but, thankfully, by the time the ladies were arriving from 2.30 pm the rain had subsided. It was cool, but Inner Wheelers came prepared in anoraks, scarves and hats, umbrellas at the ready, as this was the first opportunity during Jan's presidential year that they had been able to meet together in person. There was much fun and laughter as people caught up, the strawberries were delicious and the warming tea/coffee were welcomed with glee. Jan thanked her committee and members for their support during a very difficult year, and was pleased to say that with money left over from the previous year's fundraising efforts and the generosity of members making donations to the charity account, the Club had been able to distribute around £2,000 to local charities, all of whom had been very pleased.
The ceremonial handover took place, and Sally Pearson thanked Jan for keeping the Club going during the pandemic, and encouraging us all to become familiar with Zoom. Sally outlined her programme for the following year and announced that she had chosen to support Headway as her main charity. It is hoped that monthly meetings will be able to resume at Ufford Park Hotel from September. Arrangements are in place in the hope that the monthly Memory Café, in association with Rotary in Woodbridge, might be able to resume before too long.
6TH May
One good thing about meetings on Zoom is that the Speaker can be anywhere in the world! Members welcomed Jane Whitaker, President Jan's daughter-in-law, who spoke to us from Glasgow and told us of the amazing wildlife and architecture she revelled in during her two years in Brunei. Jane's knowledgeable and enthusiastic talk, entitled "Mosques & Monkeys – Adventures in Borneo" was illustrated with photographs. Borneo is the largest island in Asia and is made up of three countries: Indonesia, Malaysia and Brunei. Brunei is a deeply religious country but visitors, appropriately dressed, are welcomed into the mosques outside of prayer times. The photographs backed up Jane's descriptions of the magnificent architecture of the mosques with minarets clad in pure gold. The luxurious and spacious interiors are matched outside by the gardens, and the overall impression is one of tranquillity and reverence. The night-time photographs were particularly enchanting. The wildlife of the country is remarkable, and we heard about Probiscis monkeys, endemic to Borneo, with their strange appendices, Orangutans, Silver Langurs with their beautiful grey hair, and Pygmy Elephants, which are only slightly smaller than their African cousins. Crocodiles, too, are prevalent and prey on the smaller monkeys and, occasionally and alarmingly, unattended young children by the waterside. Jane ended by telling us of the one species of monkey she was not so enamoured of, the Macaque, which she likened to rabbits here in the UK, as they regularly descended on her garden and pinched her all her mangoes!
Members hoped that June would be the last Zoom meeting and that the handover in July from President Jan Whitaker to the incoming President, Sally Pearson, could be held at Ufford Park Hotel. Members agreed that one of the charities to be supported in the coming year would be School in a Bag, which provides the wherewithal for deprived and vulnerable children in poorer countries to attend school, also enabling them to receive a daily meal.
1st April
Although cat lovers may disagree, it is often said that "a dog is a man's best friend"! Following the talk by Brian Waring of the charity Dogs for Good at our April on-line meeting, Woodbridge IW members believed it is a true statement! Brian gave us an insight into the wonderful life-changing assistance provided by the charity's Labrador and Labrador Retriever dogs to people with a range of disabilities, including for children with autism. They also have a pilot scheme running in Scotland at the present time working with people with dementia. The dogs are trained in three main skills – to push (eg, lift and electronic door buttons) to pull (eg open doors, jacket removal, washing from the machine) and to retrieve (eg finding a range of items about the house). The dogs, who become family pets, give people improved confidence and independence, enabling outings such as trips to the theatre/cinema and for shopping. They give comfort and reassurance to children with autism and can help them in public spaces with sensory processing and increased noise by interrupting a child's repetitive behaviours and providing calming reassurance. The charity, which assists with vet bills and care of the dogs, has no government funding and survives on legacies and community fundraising. More information can be found on this charity on their website: www.dogsforgood.org.
Members discussed future meetings and agreed on the committee that will support VP Sally Pearson who will take over as President from July, when it is hoped that Covid will be behind us and monthly meetings can resume in person at Ufford Park Hotel. In the short term, in line with current lockdown restrictions of up to six people, members are meeting in each other's gardens – but wish the weather were warmer! Numerous blankets, knitted teddies, premature baby hats and blankets, and hats for the seaman's mission continue to be stored, taking over a member's entire spare room. President Jan Whitaker was thanked for the interesting speakers she has arranged for almost an entire year and who have informed and entertained members and, on occasion, astounded us with an insight into the work of their charity or profession.


International Women's Day, and 4th March meeting report
As part of Inner Wheel's celebrations of International Women's Day on March 8th, the Inner Wheel Club of Woodbridge is just one of the Inner Wheel clubs across Great Britain and Ireland taking part in sending out 'thank you' cards to local NHS workers in recognition of their work during the COVID-19 pandemic. The cards are being sent as part of a national campaign to show the gratitude of Inner Wheel members for the hard work done by health workers during these difficult times, and Woodbridge President, Jan Whitaker, has written to Nick Hulme, Chief Executive of the East Suffolk and North Essex NHS Trust expressing these sentiments. Enid Law, Association President of the Inner Wheel Club of GB and Ireland said: "It's a small gesture but a way for our members to show their appreciation for the dedication and effort that has been shown by our health workers throughout this pandemic." In her letter to Inner Wheel Clubs throughout GB and Ireland, President Enid expressed the views of members when she said "I know the clapping has stopped and some of those rainbows so lovingly drawn have faded but our gratitude for all the hard work they do has not diminished. "
At the March meeting, members were quizzed as to "Where in the world am I?" by Rotarian Sandy Hamilton. Sandy showed photographs from around the world and members had to guess where he had been, and also identify a recurring theme. There was some hilarity when the answers were given. The quiz was won by Deirdre Griffin, but there was some suggestion that her Scottish heritage might have given her an advantage! The quiz was a light relief before members went on to discuss business and elect the committee for 2021/22 that will take over from this July. Members sincerely hoped by then, when Vice President Sally Pearson will take the reins, that they might be able to meet in person. Thanks were expressed once again to President Jan for keeping the Club going each month during the pandemic. In the meantime, members continue to knit hats for the Seaman's Mission at Felixstowe and for a homeless charity, squares that are made into blankets for trouble spots throughout the world, as well as little hats and blankets for premature babies.
4th February
Whilst we may be fed up of being in "lockdown" and joke about the vagaries of being constantly in the sole company of one's partner, perhaps one forgets that there are many for whom such close and unrelenting confinement is threatening and dangerous. Woodbridge Inner Wheel members were told at their February "Zoom" meeting of the work, care and commitment of the Lighthouse Women's and Children's Centre in Ipswich. Our speaker, a Fundraising and Training Administrator for Women's Aid, outlined the initial problems experienced in providing their service when the first lockdown occurred when crisis calls to the centre dropped off. The centre was aware that the lockdown situation provided ideal conditions for perpetrators of physical mistreatment and/or controlling behaviour. After considering the pertaining situation, their service was adapted to meet the circumstances and most of the services of the Centre and courses were put on-line and these are now running successfully. Of course, in dangerous situations, arrangements are still put in place for women and children who have to flee their home environment. Inner Wheel members were reminded that children are victims in their own right, and help and advice can be, and is, provided for them. Lighthouse runs a series of courses for women – currently on-line – that cover themes such as anxiety, PTSD, depression etc. and the differences between what is, and what is not, an abusive relationship, and help for them to rebuild their lives after domestic abuse. The Centre also runs a series of well-being workshops which have been very well received. Children have not been forgotten either as we were told that one in three children who has been a victim of abuse may go on to become a perpetrator of abuse. If schools have appropriate funding, Lighthouse is able to provide someone to go in and talk about Healthy Relationships. More detailed information on the services provided by Lighthouse can be found on their website: www.lighthousewa.org.uk
Members thanked Sharon Proctor for her initiative in devising the Christmas Quiz which had raised a good amount of money and enabled the Club to donate £400 in support President Jan Whitaker's chosen charity, SERV – Suffolk and Cambridgeshire (Bloodrunners). A further donation was made to Lighthouse, and members had been happy to ratify the committee's recent decision to donate £200 in support of the recent Farlingaye School Laptop Crisis Appeal to help children without home resource to on-line learning. It was also agreed to make donations to Home-Start and to Smile Train. Ten knitted blankets are now being stored until it is safe to transport them together with knitted Teddies, and hats for the Seafarers Mission at Felixstowe. It had been possible for some knitted hats and blankets for premature babies at The Ipswich Hospital to be delivered, but others are being held for the time being.
Thursday 7th January 2021
Woodbridge Inner Wheel members were reminded at their January zoom meeting of the pleasures of going to the cinema, and The Riverside Cinema in particular. Tina Wiseman has been with The Riverside since 1999 when, after a career in childcare and child protection, she was persuaded by Stuart Saunders into joining the cinema. As a member of the Company of Four she had been more used to singing and dancing on stage, but is now engrossed in the intricacies of managing the business and planning the annual schedule of films that we all love to see. We were given an insight into the hold that large film distributors have over how and when cinemas may show their films, and also the large amounts of money they charge the cinemas for the "privilege" of being permitted to show their films. Next time you are sitting in the cinema and those annoying "ads" come on, you should be aware that they bring in much needed revenue to the cinema. Tina thanked the community of Woodbridge for supporting The Riverside which is one of the highest grossing independent cinemas in the country, and is often in the top five! Live broadcasts from Opera, Ballet, Musicals, the National Theatre, etc have been very successful and from a cautious start these showings are now exceedingly popular. The lock-downs have, of course, been challenging and because of social distancing requirements the number of available seats has been reduced by two-thirds. For the safety of their clientele, the decision to close the cinema had been taken just before the latest lock-down was imposed, but the cinema is ready to re-open just as soon as it can. IW Members agreed they will be delighted to return just as soon as it is safe, and wished Tina and The Riverside every success when it can re-open.
Thursday 3rd December 2020
Our Christmas 'party' got underway! There was a treasure hunt – everyone joined in and some unusual items were gathered. 6 items were asked for beginning with particular letters then the anagram of the letters was solved. Cath and Kay were the first to give the answer 'Dasher'! Then each member introduced us to their favourite Christmas item – again, there was some fascinating things, most with special meanings. Really interesting.
Deirdre Griffin modeled an Inner Wheel face mask. They are being made for £4 each and sold in aid of an overseas charity. Several members ordered one and Deirdre will organize distribution.
Jan asked members to give some thought about what could be done on Inner Wheel Day on the 10th January. She thought money raised could be given to an overseas charity as donations so far had been to local charities.
Daphne then recited an amusing poem about the Twelve Days of Christmas – thank you Daphne.

We all then raised our glasses and wished each other a Happy Christmas and a better New Year!
1st October 2020
Woodbridge Inner Wheel members met for their October meeting by "Zoom" to Richard Garnham give an interesting and informative insight into "Farming Life". Richard trained at Chadacre Agricultural Institute, south of Bury St Edmunds, and, following various positions in agriculture, in 1973 he went back to Chadacre as a member of staff. After another couple of positions in East Anglia and 50 years in agriculture, Richard retired and now lives in Grundisburgh. He is, however, a Governor of the Chadacre Trust, and, importantly, is Chairman of the Suffolk Farm Community Network. The network is a national charity supporting those in the farming industry. Volunteers support callers with a wide range of issues that range from stress and mental health problems, isolation and family problems to practical and financial matters. Volunteers are unable to give advice but can share their professional experiences. There are some 400 volunteers throughout the UK. We may forget that a life in the open air can be isolating, and when coupled with the many rules, regulations and restrictions, can be stressful and worrying. Members appreciated Richard's talk, which included several amusing anecdotes of life in farming.
It is difficult for Inner Wheel members not to be able to meet in person and, of course, not to be able to hold social and fundraising events. Members continue to carry on with practical things like knitting squares that are made into blankets, hats for the Seafarers Mission at Felixstowe and Teddies for Tragedies. Useful items are also collected for charities, such as stamps, redundant mobile phones glasses etc. 'Phone calls and letters help members keep in touch with people in nursing homes that they are unable to visit.
It was agreed at the meeting to donate some money which had been raised in the past to local charities, that included Lighthouse and the Woodbridge Salvation Army Food Bank. When lockdown was released, and before the rule of six came into being, one of our members held a socially distanced coffee "morning" that was held over a full day in the garden with a marquee, when £960 was raised for MacMillan Cancer Support. But members are conscious that local and national charities are in much need of funds and continue to come up with innovative ways of raising money in these difficult times.
Members were upset to hear of the unexpected passing of one of the long-standing members of the Club. Although originally a member at Felixstowe, she had transferred to the Woodbridge Club many years ago. Over the years she had hosted numerous social occasions in her home and been a loyal supporter of Inner Wheel activities. It is sad that members were not able to pay an appropriate tribute to her at the funeral. Respects were, of course, conveyed to the family.
September 2020
September sees the start of a new year and members are remaining positive and working to uphold the Inner Wheel ideals of Service and Friendship despite being unable to meet in person. Like all other associations, members are keeping in touch through media and phone calls but, of course, providing service to the local community is not possible in the current situation. It is upsetting for members not to be able to help out, for example, in local care homes, or, together with the two Rotary Clubs, Woodbridge and Woodbridge Deben, host the monthly Memory Café at the Woodbridge Football Ground, however, knitting continues of hats for the Seafarers' Mission, squares to be made into blankets (seven now completed) and Teddies for Tragedies.
The first "meeting" of the new Inner Wheel year will take place on Zoom when it is planned that a speaker from Blood Runners will provide an account of the work of the volunteers transporting urgent blood and other similar products throughout our local area. Blood Runners is President Jan Whitaker's chosen charity for the year, and consideration is being given to innovative ways of raising money to support their work.
.